Here in the UK, mobile commerce is a powerhouse of the retail world, and the latest mobile commerce statistics could attest to this. An accessible form of shopping, m-commerce cuts out the time and energy required to visit physical shops.
Holding a mobile phone in your hand lets you surf the web, set up accounts with multiple stores, and buy something through them. Without a doubt, on-the-go shopping has never been such a reasonable prospect as it is today!
It's an incredible way to shop in this modern day and age, but it's a similarly great way to do business.
Amazing Mobile Commerce Statistics (Editor's Choice)
By the end of 2021, global mobile e-commerce sales are projected to hit $3.56 trillion.
79% of those who use smartphones have made an online purchase through it in the last six months.
More than 50% of all online traffic is sourced from mobile phones.
One-third of all shopping made in the UK was through mobile devices.
82 billion hours were spent in shopping apps in 2020.
By 2022, the number of smartphone users in the UK is projected to hit 53.96 million.
73% of consumers are omnichannel mobile shoppers.
Mobile commerce sales from retailing is projected to hit over £100 billion by 2024.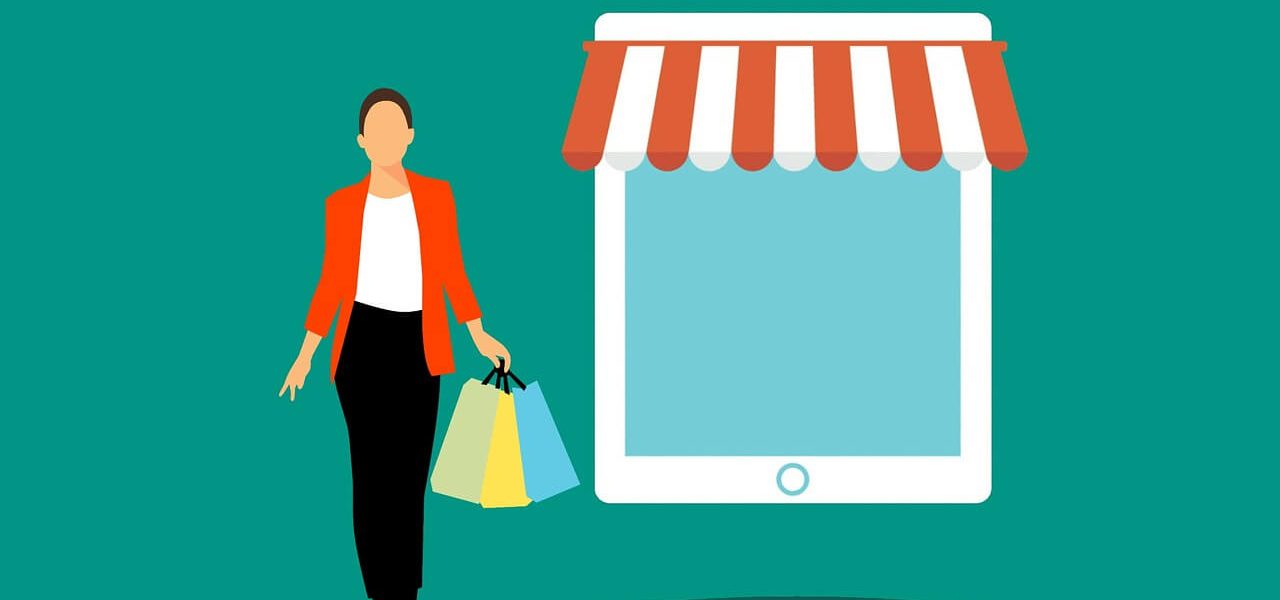 General Mobile Commerce Statistics in 2021
Mobile commerce is an incredibly efficient way to sell via the online world, and it's why mobile-friendly websites are all the rage these days.
1. 54% of total e-commerce sales will come from mobile commerce sales by 2021.
(Big Commerce)
In 2017, that figure was only 34.5%. Mobile commerce stats suggest it will grow by 20 points in four years, accounting for more than half of the total sales from e-commerce. This forecast is not far from happening, considering the significantly increasing number of online shoppers.
2. By the end of 2021, global mobile e-commerce sales will hit $3.56 trillion.
(Statista)
The share of mobile commerce from retail e-commerce sales worldwide is steadily growing each year. From $1.4 trillion in 2017, it is expected to reach $3.56 trillion by the end of 2021, global m-commerce statistics show. This denotes an increment of 22.3% from 2020.
3. 79% of those who use smartphones have purchased online through their mobile gadgets in the last six months.
(OuterBox)
Mobile shopping is undeniably one of the critical trends in e-commerce nowadays. If you are a smartphone user, chances are you will buy something online with it at least once. Online shopping statistics reveal 4 out of 5 smartphone users have purchased online using their mobile devices over the last six months. With the coronavirus pandemic still here, this should not come as a surprise.
4. More than 50% of all online traffic is sourced from mobile phones.
(Statista)
This percentage of internet traffic from mobile devices is staggering! But it makes sense when you think about the pros and cons of m-commerce compared to e-commerce.
How often do you use your mobile? What kind of apps do you have downloaded to your home screen?
5. M-commerce sales have increased by at least 40% on a global scale since 2017, mobile commerce statistics reveal.
(The London Economic)
More people have access to portable devices as more people have the income to invest in such tools. So, with just a few swipes or taps of a button, they can have their whole weekly shop done, as well as stay up to date on the latest news and trends.
6. Apple Pay alone has over 383 million users worldwide, which is more than five times the number of people in the UK alone.
(Statista)
That is undoubtedly one of the most astonishing facts about m-commerce! Options such as Apple Pay are widespread payment solutions, allowing users to store all of their necessary payment details in a secure and encrypted portal that's easy to access.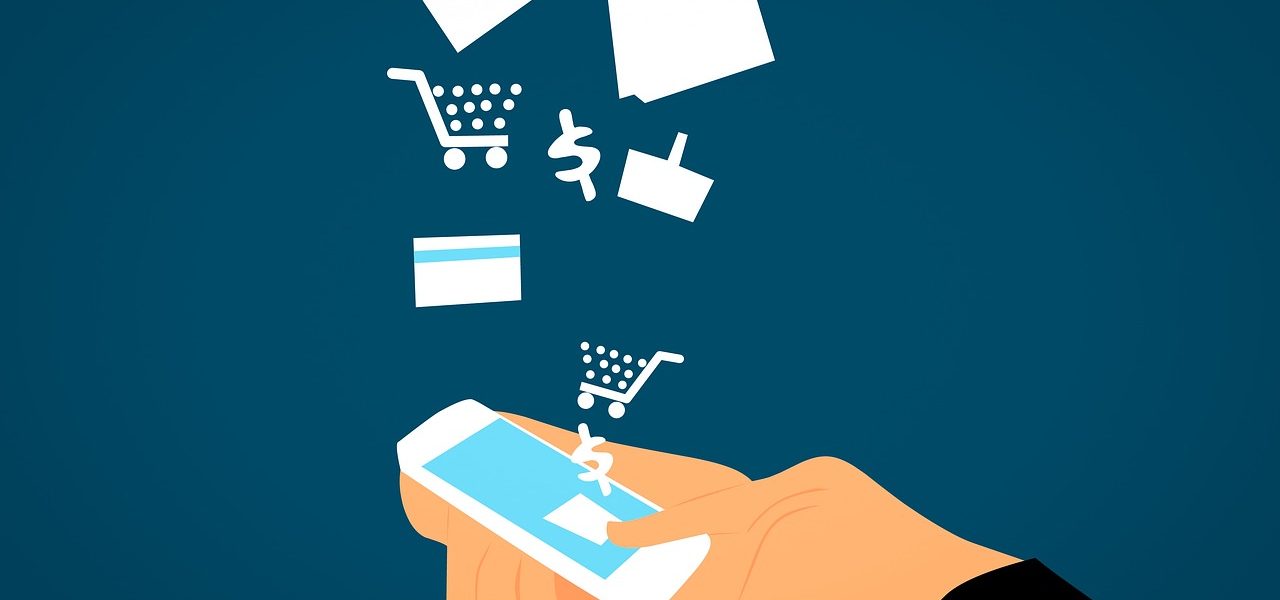 Notable Mobile Commerce Statistics in the UK
Over 48 million people in the UK use their mobile phones to go about their business, including mobile shopping and mobile banking. Let's find out more about the latest m-commerce statistics and figures below.
7. One-third of all shopping made in the UK was through mobile devices.
(Statista)
Gone are the days when mobile phones are used only for communication. Now you can do so much more with it, including buying stuff. Based on the recent online shopping statistics, UK purchases made through mobile devices accounted for one-third of the total.
Read more: How to get free stuff on Amazon!
8. In 2020, 87% of UK households purchased goods and services online in the preceding 12 months.
(Statista)
This was the country's highest percentage of online shoppers in the past 11 years, the mobile commerce statistics 2020 report shows. This data portrays an enriching online shopping landscape in Great Britain as more and more shoppers prefer buying online.
9. Lidl Plus app became the most popular shopping app in the UK in 2020, downloaded over 600,000 times.
(Statista)
In addition to entrepreneur growth, the adverse impact of the coronavirus pandemic on the economy forced many businesses to be innovative to thrive. The supermarket retailer Lidl, for instance, launched its shopping app called Lidl Plus to allow customers to purchase goods online.
According to the mobile e-commerce statistics 2020 data, the shopping app has reached more than 600,000 downloads on Google Play Store, while it was downloaded over 700,000 times on Apple Store in September alone.
10. 55% of products purchased online were clothes and sports goods.
(Statista)
Based on the mobile shopping statistics in 2020, UK shoppers liked to buy clothes and sports goods online last year. These items topped the list of goods and services with the highest percentage of buyers, accounting for 55%. Conversely, bicycles, mopeds, cars, or other spare parts sold the least, with less than 10% of households choosing to buy them online.
11. In 2020, over 80% of businesses operating on the street have mobile websites.
(The London Economic)
Mobile commerce growth statistics confirm the sharp increase in the number of retailers who operate both off and online in 2020. If one doesn't already exist for your business, it's time to enable these functions.
12. 82 billion hours were spent in shopping apps in 2020.
(Internet Retailing)
As stated in mobile e-commerce statistics, 2020 is so far the most prominent mobile shopping year. Reports show that UK consumers, as a whole, spent 82 billion hours on shopping apps. This indicates a 30% increase from 2019 and will positively impact app usage stats.
13. A 36.6% Y-o-Y growth in total online sales was seen in 2020.
(Econsultancy)
This is one of the e-commerce statistics in 2020 where the UK stood out. This is the largest growth in online sales since 2007. The same is true for the mobile commerce sector that experienced a whopping 73% year-on-year uptick following many years of stagnation.
14. Mobile commerce trends disclose more Generation Z (45%) used mobile wallets than other age groups.
(Statista)
Well, Generation Zs are born in the digital age, so this should not come as a surprise. A recent study found that many UK consumers who pay for their purchases using digital or mobile wallets come from Generation Z (45%). The millennials came next with a 32% share, and Gen X had 28%.
15. The UK has been the third-largest e-commerce market in the world since 2016.
(Ecommercenews)
Internet mobile usage statistics tell us that e-commerce in the UK is currently at an all-time high. The country is one of the world's worldwide leaders, which might also explain why traditional high street shops have been struggling over the last few years and why digital marketing jobs are on the rise.
16. More than 73% of adults over the age of 16 in the UK use a smartphone in their day-to-day life.
(ONS)
That's right!
Mobile e-commerce stats show that nearly three-quarters of adult Brits rely on their smartphones to do pretty much everything. Moreover, the average Brit spent more on orders made via digital devices, such as smartphones and tablets, than they did on desktops.
17. Only 18% of small enterprises and micro-businesses currently have a mobile-friendly website.
(Independent)
The latest m-commerce facts show us that the vast majority of small businesses lag behind the latest trends.
Since most online shopping comes from mobile devices, businesses must ensure their websites are prepared for mobile viewing. Mobile optimisation may be complex now, but it's crucial to stay ahead of the curve.
Mobile Commerce Trends in 2021 and Beyond
Mobile gadgets are everybody's best friends these days, and they're helping shape the mobile commerce industry.
Here are a few of the trends in mobile commerce we can expect in the next year or so.
18. Smartphones will generate $ 221.2 billion in mobile commerce sales at the end of 2021.
(Build Fire)
Mobile shopping continues to dominate the e-commerce market in 2021, and smartphones will be significant players. By the end of the year, mobile commerce sales from smartphones will hit $221.2 billion, statistics on mobile commerce suggest. That's more than five times the sales generated from tablets valued at $41.8 billion.
19. By 2022, smartphone users in the UK will increase to 53.96 million.
(Statista)
It's clear from m-commerce statistics, UK smartphone users increase in number over time. Consequently, this will impact the future of mobile e-commerce statistics. The UK population continues to grow, and the wages going into people's pockets will be used to purchase innovative tech that makes running a household a lot easier.
20. Mobile shopping stats allow us to see that m-commerce will steadily increase by about 3% to 4% year by year, up to and including 2022.
(Smart Insight)
There's a whole new generation of shoppers on the way in the next few years. As they're all digital natives, both e-commerce and m-commerce will benefit immensely.
21. By 2022, voice shopping will be worth $40 billion.
(Build Fire)
Voice shopping is among the exciting m-commerce trends businesses must be aware of. Voice-based shopping was valued at $2 billion in 2018. It is expected to skyrocket to $40 billion in four years, representing a staggering 1,900% increase.
22. 73% of consumers are omnichannel mobile shoppers.
(Build Fire)
If you're a retailer looking to scale up your sales, this is one of the most important online shopping trends to keep in mind. Nowadays, mobile shoppers not only purchase goods or services from one channel but multiple channels. Therefore, it's not enough that you have a physical store and even an e-commerce website. Investing in a mobile app would also be a great way to drum up some business.
23. Mobile commerce sales from retailing is expected to exceed £100 billion by 2024.
(Statista)
Retail sales through mobile commerce in 2019 were recorded at £50.36 billion. Mobile e-commerce stats forecast suggests sales will surpass the £100 billion mark by 2024. Specifically, mobile commerce revenue can go up to £105.28 billion.
Key takeaway:
The potential for m-commerce growth is exponential. The m-commerce growth statistics available to the public easily paint a picture of an industry going from strength to strength.
Conclusion
Mobile commerce is dynamically evolving and continues to shape the e-commerce landscape. Making your websites mobile-friendly and utilising mobile apps for your business are some of the ways you can adapt and implement to take advantage of the benefits of m-commerce.
The industry has some of the best statistics to boast when it comes to the current shopping generation. Researching other mobile commerce statistics the UK has to offer is an excellent way to keep the conversation going.
Additionally, m-commerce matters to the sellers, consumers, and the search engines that connect the two. Moreover, it is an incredibly profitable sector, as clearly presented by our astonishing mobile commerce facts and statistics. And more and more UK businesses are jumping on the bandwagon to increase their chances of success.
Frequently Asked Questions
What's the difference between e-commerce and m-commerce?
While they sound very similar, e-commerce and m-commerce are distinguishable against each other. Here are the main differences (and benefits) of m-commerce compared to e-commerce:

● Mobile commerce means portability. Shopping can be done on the go and anywhere in the world thanks to portable devices. So m-commerce has a better reach than the standard form of e-commerce.

● Mobile commerce means consistent sales. Accessing the internet via a tablet or smartphone is something more and more people are doing, as m-commerce statistics show. As long as a device is internet-enabled, it can contribute to m-commerce in both the company and consumers' favour.

● Mobile commerce means personalised recommendations. M-commerce also contributes to customer experience trends by personalising a customer's experience using location-tracking technology. A small and local business, for example, could notify a nearby user that there is a sale currently going on and then see that shopper in-store the same day. A standard e-commerce portal would have much more of a delayed reaction than this.

● Mobile commerce means security. Just like e-commerce, using your phone to shop allows you to turn on two-factor authentication. But the security protocols don't stop there—using m-commerce-enabled devices to do your online shopping enables you to use thumbprint scans on stored credit cards. And you can also rely on Apple's new faceID feature to ensure you and you alone can make your purchases.
What percentage of e-commerce is mobile?
As of Q3 of 2020, an average of 55.4% of consumers worldwide purchased something online using a mobile device. In the UK, the percentage of consumers who utilised mobile shopping was 46.5%. This only proves mobile commerce is inevitably on the rise.
What is the estimated revenue of mobile commerce?
Sales from mobile commerce are expected to hit $3.56 trillion in 2021. This represents a 22.3% growth from 2020. On a global scale, m-commerce will have 72.9% in e-commerce revenues this year.
Why is m-commerce popular?
The answer is pretty simple. It's because it involves the use of mobile devices, which most people use every day. It's handy and accessible and allows the user to do many things, including shopping online.
What is the future for m-commerce?
In a word: bright! The rapidly increasing number of mobile phone users each day is highly likely to impact mobile commerce favourably.

Of course, m-commerce has its advantages and disadvantages. But the mobile commerce statistics for the last couple of years have been promising, and the upward trend is set to continue into the new decade.