To put it simply, employee engagement is the level at which your employees are committed to your firm's values and goals. That's why knowing the latest employee engagement statistics can be beneficial for every employee. Every organisation needs motivated and satisfied workers that will honour its culture and increase productivity.
However, it begs the question: how important is employee engagement? What percentages should you expect in your employee engagement analysis? If you find yourself asking these questions, this article is certainly a must-read for you!
Vital Employee Engagement Trends (Editor's Choice)
The employee engagement rate around the world is 68%.
A disengaged employee cost companies $3,400 to $10,000 annually.
73% of UK employees are happy with their work.
55% of workers agree that they are more engaged when their work is recognised.
When it comes to employee engagement, the UK has a rate of 50%.
Employees are 17% more engaged if they're able to participate in their company's feedback programme.
Burned out workers are 2.5 times more likely to seek new employment.
Mindful and happy employees are 12% more productive.
Employee Engagement Statistics in the UK
1. The employee engagement rate in the UK is 50%.
(Qualtrics)
According to a study by Qualtrics, approximately half of the workers in the UK are engaged. That puts the country in sixth place on the list of countries with the highest engagement rates. At 55%, France has the highest engagement rate in Europe.
2. 73% of UK employees are happy with their work.
(Statista)
Happy employees are usually more engaged. According to UK employee engagement statistics in 2019, the percentage of UK workers who are happy with their jobs was pretty high. However, the research published by Statista included six other countries that have a higher number of people who are happy at their jobs. The United States came in first with 93% of its workforce being happy with their work.
What Drives Engagement in the Workplace?
3. 50% of workers agree that managers helping with career development drives employee engagement.
(Qualtrics)
This one is a no-brainer! An engaged leadership leads to higher worker engagement. That being said, employee engagement statistics in 2020 show that 50% of employees agree that having confidence in their leaders' decisions can increase their likelihood of staying engaged in their work. So, having an engaged leadership that cares about employees is one of the upcoming new trends in employee engagement.
4. Companies that effectively turn feedback into action have an 80% employee engagement rate.
(Qualtrics)
Research by Qualtrics shows that turning feedback into action leads to high employee engagement. On the other hand, employee engagement and motivation seem to be affected in companies that don't. They only have an engagement score of around 40%.
5. Employees are 17% more engaged if they can participate in a regular feedback programme.
(Qualtrics)
According to the same research, it's important for companies to organise a good feedback programme if they want their employees to stay engaged. If you want to know the impact of human resources on employee engagement statistics, 59% of employees working in companies where HR organised a feedback programme are engaged.
On the other hand, the engagement score was 42% in firms without such a programme. Moreover, 2 in 3 workers believe that it's very important for company leaders to listen to their feedback.
6. 61% of the Gen Z population would feel less stressed about their financial situation if they are offered financial wellness benefits.
(Statista)
Stress at work is a primary factor that affects a company's employee engagement stats. When employees feel less stressed at work, engagement would certainly improve. That being said, financial wellness benefits include retirement plans, help with the repayment of student loans, access to financial counselling, and tuition reimbursement.
7. 55% of workers agree that recognition for good work drives employee engagement.
(Qualtrics)
Recognition is one of the top drivers for employee engagement. Moreover, 60% of workers are likely to stay engaged when they believe their job gives them opportunities to learn and develop.
Benefits of Employee Engagement
8. Highly engaged teams sell 20% more than teams with low engagement.
(PeopleMetrics)
It comes as no surprise that disengaged teams have a significant negative effect on a company's overall performance. Engagement drives profits and vice versa. In fact, PeopleMetrics also reports that the employees of highly profitable firms are generally 50% more engaged.
9. Mindfulness makes employees happier, which then makes them 12% more productive.
(Zapier)
Employee engagement statistics in 2021 show that mindfulness has a direct effect on employee engagement and productivity. Contrary to popular belief, mindfulness does not mean you're not thinking it all. When you practice mindfulness at work, it means that you focus on the task at hand rather than the intangible outcome.
10. A disengaged employee can cost a company anywhere from $3,400 to $10,000 a year in salary.
(PeopleMetrics)
Workers who aren't engaged are more likely to take sick days. Moreover, employee engagement and productivity statistics show that disengaged employees are often late and less productive. Lastly, research reports that they tend to miss their deadlines, which can cost companies even more money.
11. Burned out workers are 2.6 times more likely to look for another job.
(Gallup)
The Gallup statistics on employee engagement show that employee burnout is a likely cause for employees being disengaged. Some of the possible causes of burnout include dysfunctional dynamics in the workplace, working long hours, not being appreciated, lack of control, and an imbalance between work and private life.
12. Burned out employees are 63% more likely to take a sick day.
(Gallup)
Overworked employees might show better short-term productivity, but the Gallup employee engagement statistics in 2020 show that that's not the best option in the long run. In addition to having more workers taking a sick day, employees experiencing burnout are 13% less confident in their work. Moreover, 23% are more likely to visit the emergency room.
Work-From-Home
Employee Engagement Statistics
13. 46.6% of UK employees did some work at home in 2020.
(Office for National Statistics)
Out of that, approximately 86% did so as a direct result of the pandemic. In addition, about 57% of employees living in London were working remotely last year. Most employees reported they worked the same hours as they did on-site, around 34% worked less than usual, and about 30% reported working more hours than before. We've yet to look into how this affects the latest employee engagement trends.
14. 88% of organisations encouraged their employees to work from home due to the COVID-19 pandemic.
(Gartner)
Remote working is not a new trend. However, the pandemic brought working from home to a new level. In fact, approximately 32% of organisations came up with new tools to facilitate virtual meetings. In addition, according to statistics, employee engagement is maintained by 40% of these organisations by organising frequent virtual check-ins with their workers.
15. 73% of UK marketers feel they are more efficient when working remotely.
(Statista)
The pandemic changed the working habits of many employees. Many were struggling to get used to working remotely. However, research shows that a large majority of marketers feel that remote work allows them to work better.
If you've been searching for employee engagement statistics in 2020 in the UK and wondering about how the pandemic impacted the number of hours employees in certain fields work, we have that information. Around 68% of brand marketers in the UK think they work more when they work from home.
16. 25% of UK marketers think that working from home interferes with their personal lives.
(Statista)
According to employee engagement statistics released in 2021 in the UK, although a majority of UK marketers think that working remotely allows them to work efficiently, a quarter of them still think that it interferes with their personal life and disrupts work-life balance.
17. Amidst the COVID-19 pandemic, 29% of US employees who work from home full-time are burned out.
(Gallup)
According to employee engagement statistics by Gallup, around 25% of employees who work from home part-time amidst the COVID-19 pandemic state that they experience burnout. On the other hand, about 26% of those who don't work from home state that they feel the same.
Trends in Global Employee Engagement
18. The global employee engagement rate is 68%.
(Kincentric)
Despite the pandemic, the global engagement rate in 2020 reached an all-time high. In 2019, it was 2% lower, while in 2018, the engagement rate was 65%. Statistics on employee engagement show that the lowest number recorded was in 2010: 56%. Experts believe that the low rate of engagement at that time was a result of the 2008/2009 financial crisis.
19. Latin America is the region with the highest engagement rate.
(Kincentric)
Employee engagement stats show that at 74%, Latin America has the highest engagement rate among all global regions. The MENA region comes in second with 72%, and APAC places third with 71%. Lastly, Europe has an average engagement rate of 60%.
20. 80% of salaried employees agree that their company prioritises their health and safety.
(Perceptyx)
How workers feel about their organisations' attitude towards their wellbeing directly influences trends in employee engagement. It comes as no surprise that a majority of salaried employees feel that their safety and health are a top priority to their employers.
On the contrary, only 62% of hourly employees feel the same. Furthermore, research shows that the percentage of employees that feel their health is prioritised is lower for those working on-site compared to those working remotely.
21. 74% of engaged employees said their senior leaders are creating excitement for the future.
(Kincentric)
During the pandemic, it was more important than ever for company leaders to boost employee morale and keep the importance of employee engagement in mind. As a result, the percentage of employees motivated by their senior leaders increased by 10% from the year before.
22. 80% of employees reported effective decision-making in their companies.
(Kincentric)
In 2020, employees were more than content with the decision-making process in their firms. On the other hand, the percentage was lower in 2019 when only 65% of employees thought that their company had been making the right decisions at the right speed.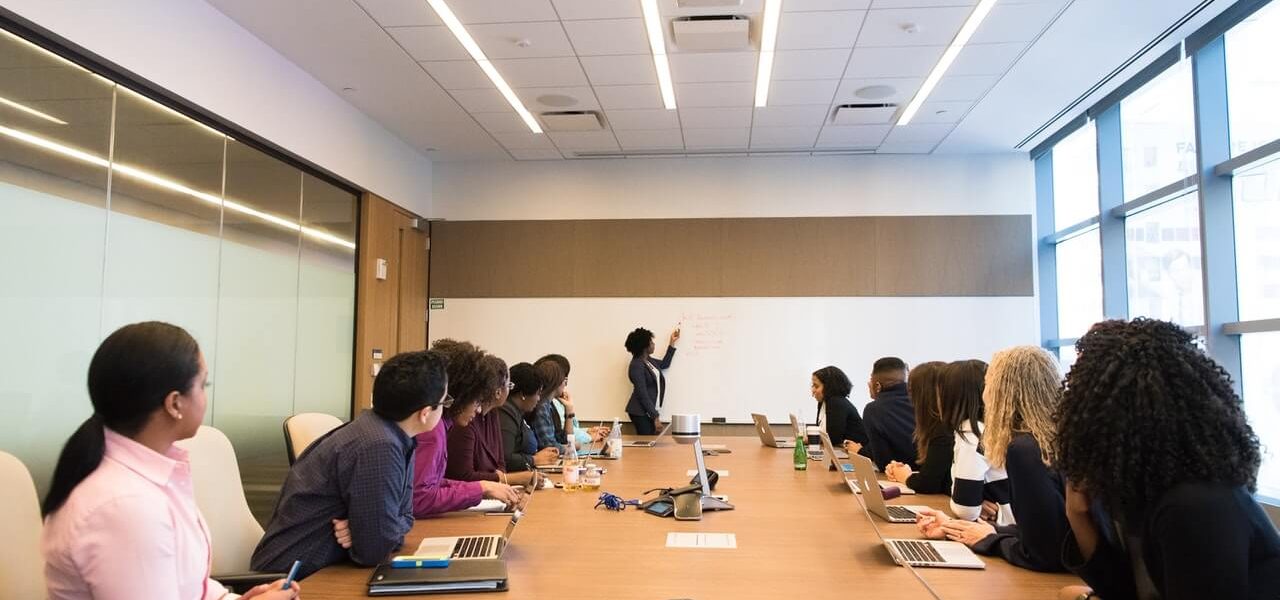 Employee Engagement Statistics in the UK — Final Thoughts
Besides the pure satisfaction of knowing your employees are happy, being mindful of how engaged your employees are has many other important upsides. Engaged employees are much more productive and are likely to stay at their jobs, which saves you the cost of looking for another worker and training them. As the number of vacancies in some fields is increasing, you don't want to take that chance.
Therefore, we think that every employer should know how to measure employee engagement and do that on a regular basis. You can measure the engagement of your workers by handing out surveys. You can also organise one-on-one interviews with employees that you believe are not productive or motivated enough.
Some of our stats can certainly help you learn which aspects are important in maintaining employee engagement. So, with a little effort, you will be able to come up with a great questionnaire to gauge how engaged your employees are and what drives their engagement.
Frequently Asked Questions
How engaged are UK employees?
According to the latest research conducted in 2020, around half of the UK employees are engaged. Regions and countries with higher employee engagement rates include the United States, France, Australia, Canada, and the Middle East. This isn't so surprising, considering that job satisfaction levels in the UK are among the lowest in Europe.
What is the average employee engagement score?
You already know that the engagement rate in the UK is 50%. That means approximately half of the UK employees are engaged. On the other hand, when it comes to the global employee engagement rate, it reached an all-time high of 68% in 2020. If you find yourself asking what engagement rate you should thrive for in your company, at least 50% is a good percentage to start with.
Why are employee engagement statistics important?
As previously mentioned, employee engagement measures the commitment of workers to their organisation's beliefs and values. While that may not be a top priority for you, you should keep in mind the importance of employee engagement in driving many other technical factors.

You certainly want your employees to stay motivated, loyal, and work for you for as long as they can. In addition, we know that employee productivity is crucial to the success of every company. Well, low engagement can affect all of these factors and many others.
How do you know if employees are engaged?
You can measure your company's employee engagement rate in various ways. You can organise a survey where your workers can grade certain statements on a scale from 1 to 10. Questions can involve grading the level of their commitment to your organisation's values, how long they plan on staying in their current position at your company, would they recommend your company to their friends and relatives, and so on.

In addition, in case you notice a change in productivity or motivation in some of your employees, you can always invite them to an interview to discuss the reasons for that change in their behaviour.
How does employee engagement drive productivity?
Experts find a correlation between employee engagement and productivity. Research shows that engaged employees can boost productivity by around 40%! Furthermore, engaged employees are less likely to skip work, which directly affects productivity levels.

In our previously mentioned employee engagement statistics, we also mentioned that engaged teams sell more than teams that have a low engagement rate. Moreover, some studies show that workers are more likely to accept new challenges or adjust to changes in the company when they are engaged. The ability to quickly adapt certainly influences the levels of productivity in an organisation.